VISIBILITY · CREDIBILITY · EXCLUSIVITY
Gain visibility, credibility and exclusivity! Our members represent the best in their industry and the region's community. With a membership to the Bossier Chamber of Commerce, your business is automatically connected to a network of more than 800 business owners throughout the region. Your membership adds your company to one of the largest business-to-business communities in the Bossier-Caddo area, and allows your business to build strategic relationships with potential clients, promote your brand and give back to the community.
As a member of the Chamber, you get the benefit of:
Having a business advocate at the local, state, and national level.
Exclusive access to our 40+ events per year and connections with our network of partners and members.
Gaining connections through networking events, leadership and involvement opportunities and educational forums.
New member welcome listing in Chamber eNewsletter.
Visibility through social networks.
Plaque and decal for your place of business; Chamber logo for company website.
Ribbon cuttings for new members, relocations, remodels and anniversaries.
Business development opportunities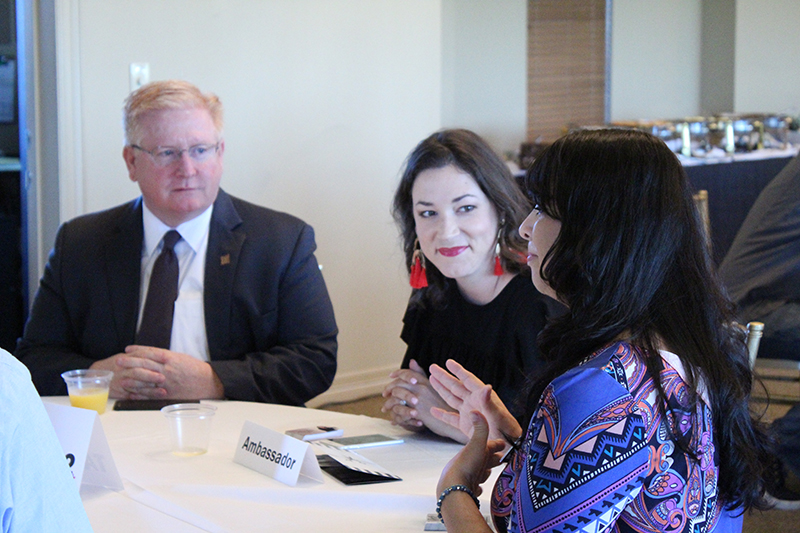 Membership in the Bossier Chamber represents an investment in your business and your community. Utilize your Chamber membership by volunteering for a committee or task force. Your input and participation is vital to the success of the Chamber's program of work, and there are many opportunities to get involved and plug in to some of the largest issues affecting the region's business climate and quality of life.
Serve on a Committee – Committee members help to guide and shape various programs of the Chamber and play a role in helping to achieve program goals. The Bossier Chamber staff is eager to work with the membership and pool their resources for the advancement of the business community in the areas of: government relations, special events, military relations, and investor relations. Contact Jessica Hemingway or click here to get involved in a committee.
Serve as a Diplomat – The Bossier Chamber Diplomat Organization is a group of volunteers that exemplify outstanding service and support of the Bossier Chamber and its mission. Bossier Chamber Diplomat responsibilities include: greeting members and guests at Chamber events, participating in ribbon cutting and groundbreaking ceremonies for Bossier Chamber members, and assisting the Chamber in member retention by visiting member businesses throughout the year. Contact Charlotte Moczygemba to learn how you can become a Bossier Chamber Diplomat.
Schedule your Ribbon Cutting or Groundbreaking – Hosting a ribbon cutting or groundbreaking event with the Bossier Chamber of Commerce lets the community and region know your business is preparing to invest in the local community. Partner with the Chamber to reach out and establish your customer base and gain exposure. Contact Charlotte Moczygemba to schedule your event at 318-746-0252.
Advertise With the Chamber – Get noticed in the business community. Advertising with the Chamber gets your business maximum exposure to the right people. The Chamber offers flexible plans that fit your budget and produces results. Contact Jessica Hemingway to learn more about advertising opportunities at 318-746-0252.
Networking & Special Events – Make your presence known in the business community by attending or hosting one of the Chamber's 40 events throughout the year. The Chamber prides itself as your premier connection agency and has access to hundreds of potential connections to help increase your business.  Contact Kattie Hollay for more information call us at 318-746-0252.
Communications – Share your business' story; allow the Bossier Chamber to craft a media release announcing your business, new developments, products or awards. Contact Jessica Hemingway, Vice President of Communications and Public Policy at 318-746-0252 ext. 3 to take advantage of this exclusive membership benefit.