What does the Chamber do for you?
Since 1947, the Bossier Chamber of Commerce has proudly served as an integral part of what makes our community a great place to live, work and play.
WHAT DOES A CHAMBER DO? The Bossier Chamber of Commerce is a private, non-profit organization whose purpose is to promote growth and development within the communities of Bossier and Caddo Parish. The Chamber promotes growth and development by utilizing its most valuable resource, its membership.
We are a business network and membership organization comprised of over 800 members, across seven states in 30 cities, and represent 60,000 employees throughout the region. The size and diversity of the membership and our retention of members contributes to this successful image. These factors, as well as the range and quality of our services, our ability to develop effective partnerships, and our commitment to protect the business environment, make our Chamber a success.
Download our 2022 Annual Report which highlights successes of 2022 as well as looking forward at 2023.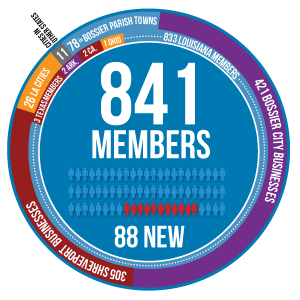 Our strongest assets are our partnerships and our members!

CHAMBER ACCOLADES: The Bossier Chamber of Commerce is a 5-star accredited Chamber from the U.S. Chamber of Commerce as well as an accredited Chamber through the Louisiana Association of Chamber of Commerce Executives.
In 2018 and 2022, the Bossier Chamber was named the Louisiana State Chamber of the Year.