We are still connecting you, even virtually
As your Chamber of Commerce, we know that many of you have had to change on a dime to offer different delivery methods or services to keep your business viable. And while we don't hold a Magic 8 Ball for the year ahead, we do know that many of our new strategies for business will last into 2021 and beyond.
This year, the Bossier Chamber will host more interactive and topic-based events that can easily be communicated via virtual platforms in an effort to relate directly your business' changing needs and your availability.
Each Thursday in 2021, the Bossier Chamber is bringing you a different virtual offering to help you grow your business, gain more knowledge and increase your business network! We are calling these events our #ThursDATEs.
So, save your Thursdays for the Bossier Chamber.
Every Thursday. Relevant Topics. Virtual Delivery.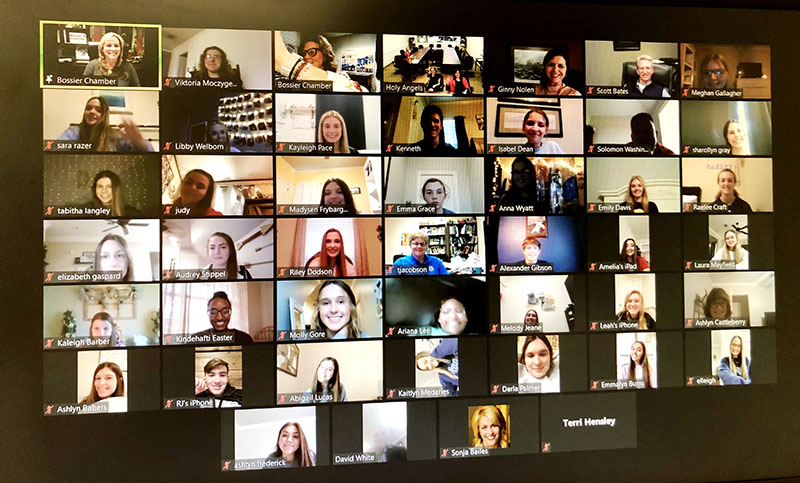 Our #ThursDATE schedule:
First Thursdays: Chamber Chat
This series, which we started during the COVID-19 pandemic, gives our members an informal way to chat with President Lisa Johnson or Bossier Chamber staff and topic-related guests, including policy updates, economic development updates, healthcare updates and defense community updates.
Second Thursdays: Doing Business Seminar
These business-building seminars will cover topics like virtual meeting training, social media training, HR issues and policies, tax changes, etc. These seminars will be hosted via Zoom in either the meeting or webinar format and could include breakout rooms, as needed.
Third Thursdays: Networking
We know you love the traditional Chamber offerings like networking and we are providing those opportunities to you monthly, albeit virtually. Armed with breakout rooms in the Zoom platform, we can break you into large or small groups to meet new business professionals and expand your contact database.
Fourth Thursdays: Public Policy Update
Advocacy is a strong part of our work at the Bossier Chamber. During our Public Policy virtual meetings, we will talk to key officials - elected or otherwise - to talk about policy hot topics on the local, state and national level.